Raptr: Where your gaming rep matters. Establish your rep, and unlock cool stuff. Webby award nominee, Winner of PC Gamer's "10 Best Apps" and OnHollywood's 100 Best Companies
<! -- start project -->
INTRODUCTION
Raptr was a social network for gamers, offering a website and a desktop companion app. Raptr tracked a gamer's overall achievements by aggregating from Playstation Network, Xbox LIVE, and Steam. Using this data, gamers could show off online at Raptr.com, compete on leaderboards with their friends, and earn in-game and swag rewards through the Raptr Rewards Program.
MY ROLE
I worked with an amazing dev team at Raptr - we designed, iterated and shipped very quickly. During my time there, we optimized Raptr to the mid/hardcore gamer's needs.
I was the lead designer on the desktop, web and mobile product. I worked with Leadership and Product to strategize on our direction and lay out our product milestones. I provided the large team of engineers with visual specs and animated interaction flows.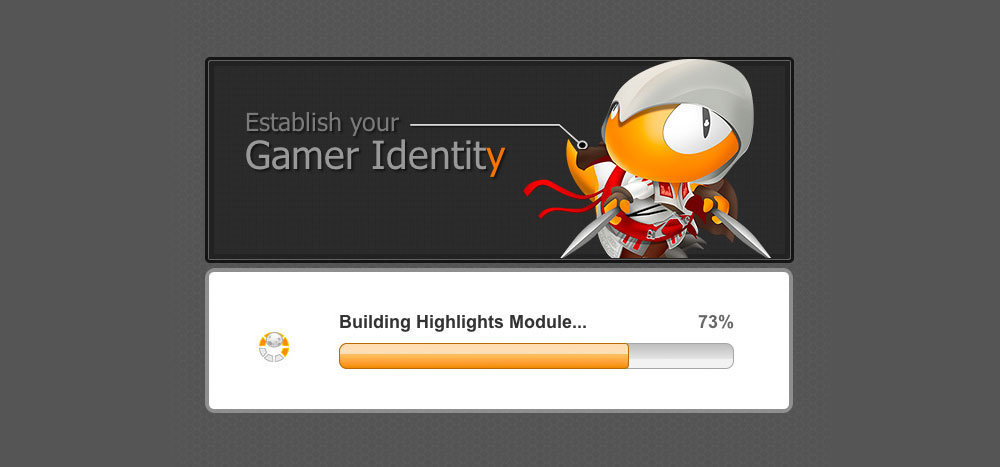 PROCESS
I worked primarily in Balsamiq to draw up detailed wireframes, and used Flash to build interaction flows and prototypes when necessary. We had a very engaged base of "superusers," so we built a relationship with them as our beta testers of early-release builds of our product. Raptr's core offering was fairly established when I joined, and so we developed on a super fast schedule, and opted to release and A/B test live.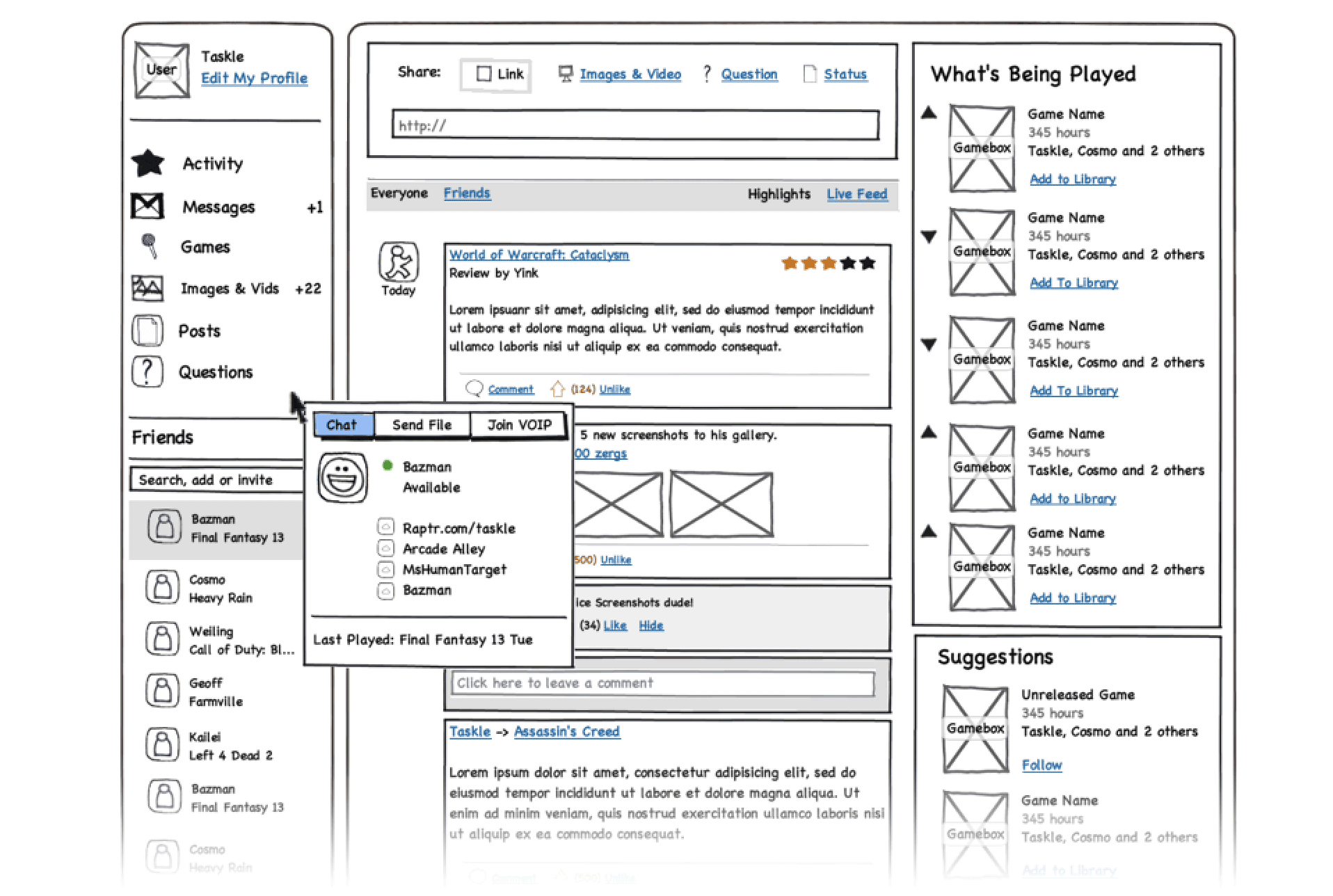 BRANDING AND VISUAL DIRECTION
In addition to its somewhat strange name, Raptr had a pre-existing logo of a cartoony velociraptor. Originally, I worried that it didn't jive with the hardcore gaming vibe we consistently presented elsewhere. However, re-branding was not an option, and so I ran with it, commissioning an artist to dress the raptor up into various popular game outfits.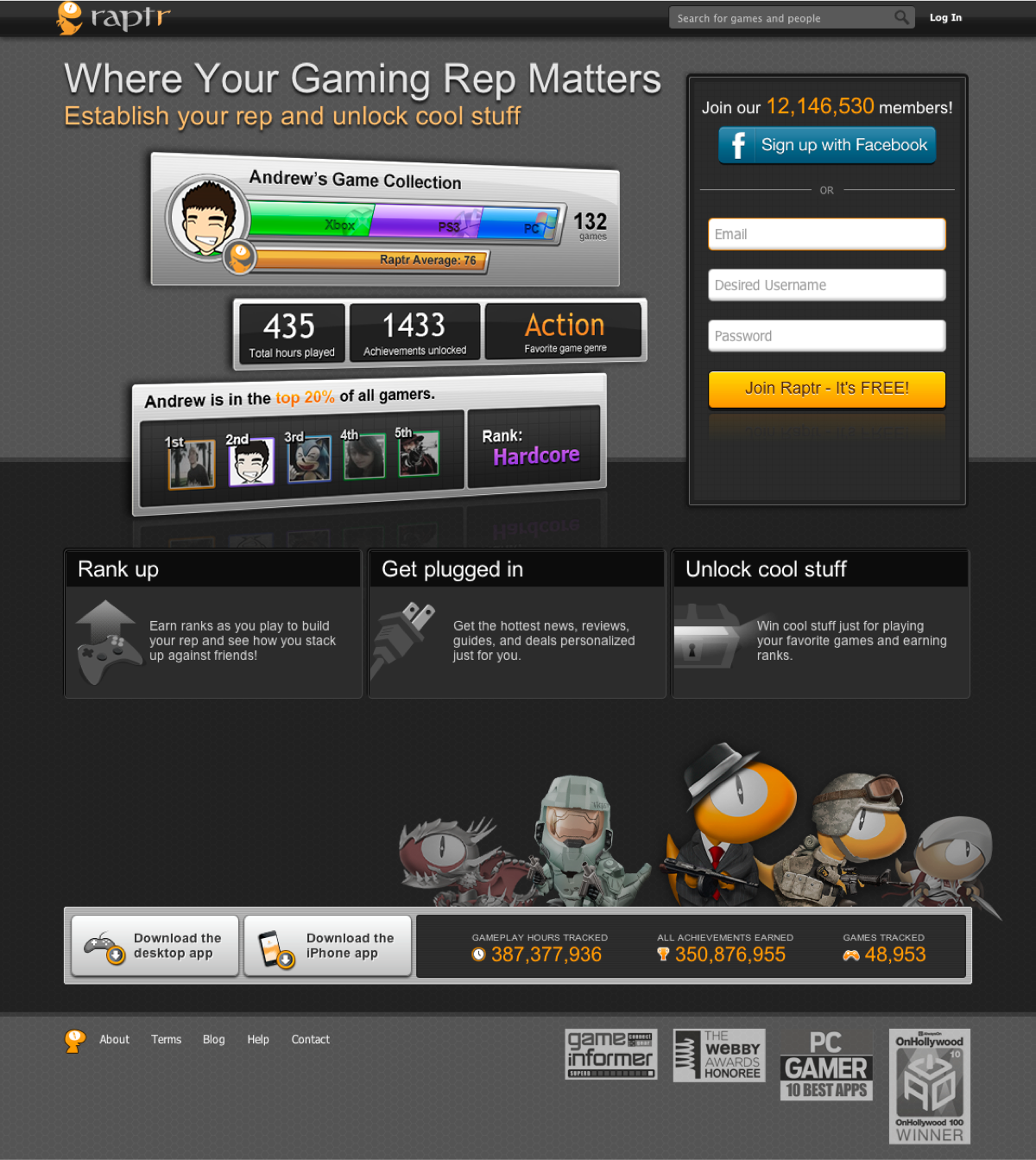 We also gave them personalities and identities, like Riptaur, Roptaur...similar to the family of moogles in the popular RPG, Final Fantasy VI. The result was widespread adoption of the "lovable" mascot, including various raptor plushies, and our company T-shirts being highly sought after on the street.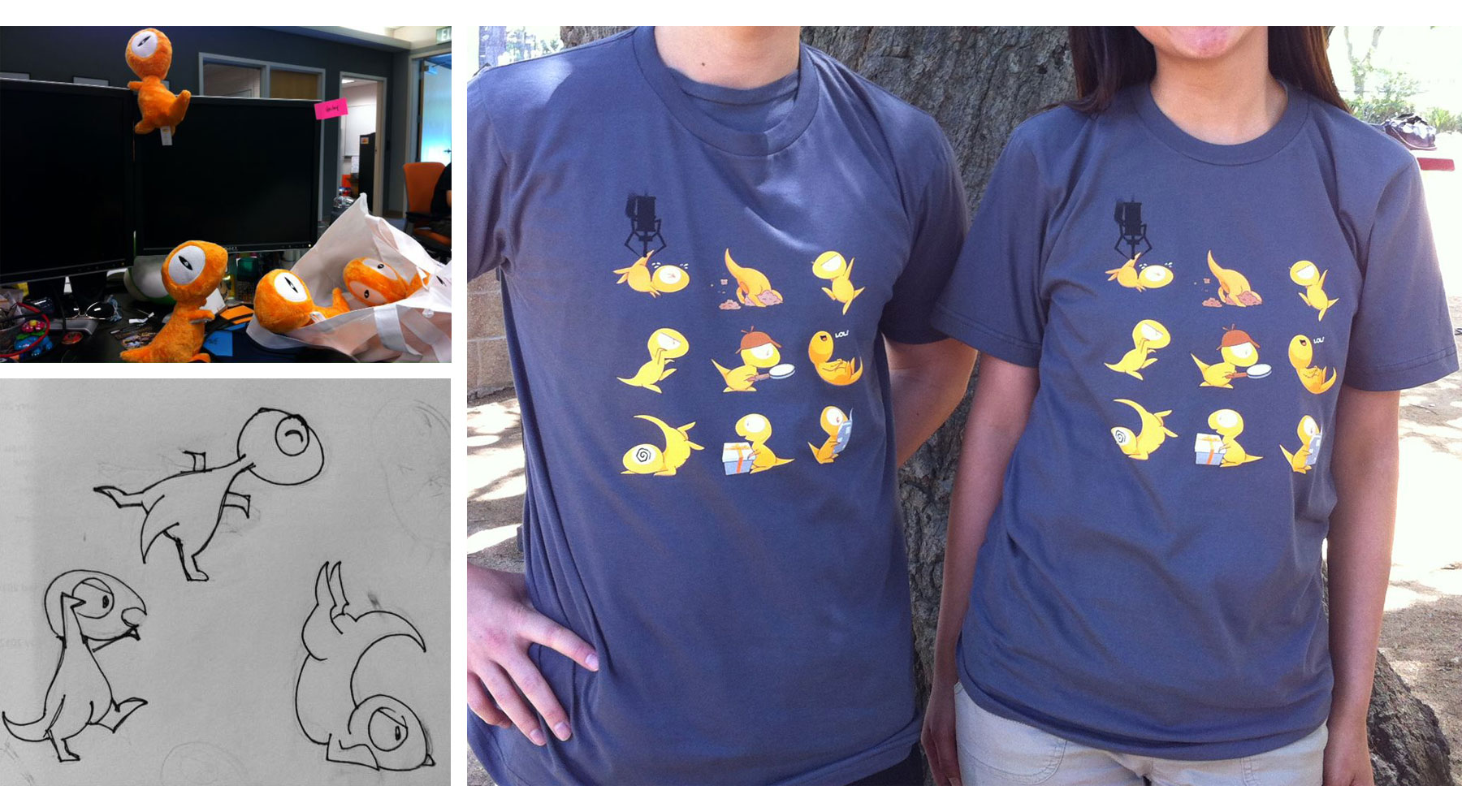 We wanted Raptr to have an edgy, sleek and shiny look and feel, similar to Windows 7, as that was the most common OS for gamers at the time. We also wanted it to be dark, to minimize clash against fully immersive game visuals.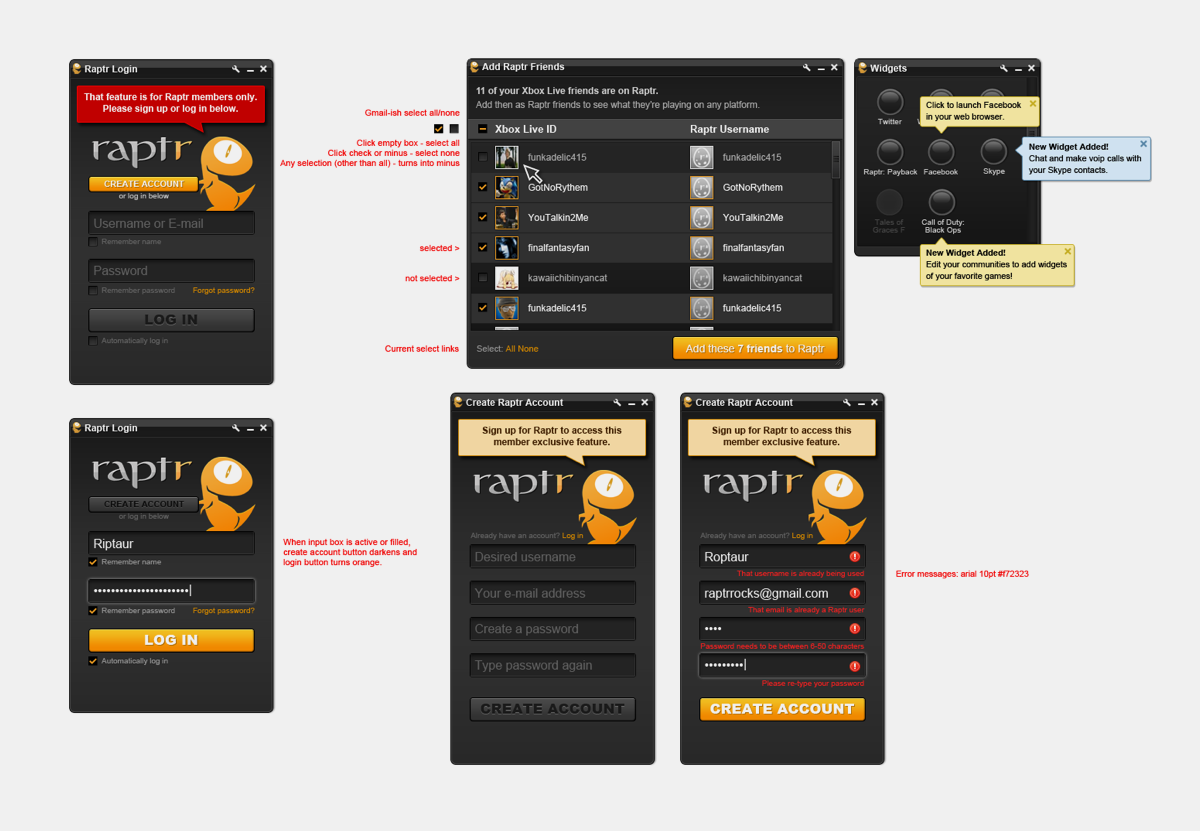 VALUE PROP AND PRODUCT ECOSYSTEM
Our primary business objective: not only to incentivize the users to sign up, but to link all their game service accounts during signup, in order to get the most engagement and benefits. This included running the desktop app during their play sessions so that their Steam achievements could also be aggregated.
To lay the groundwork for our product features, we identified the needs of the business and the user, and used those to create user cases for our primary user persona.
CUSTOMER NEEDS

When actively playing, gamers don't want distraction, but they would like to know if they're being pinged outside the game.
Gamers are proud of their achievements, enjoy showing off their "cred," and enjoy positive response to it.
The gamer lifecycle can be summarized as: buying the game, progressing through the game, and moving on to the next game.

USE CASES

As a user, I enjoy showing off my gamer identity and competing with other gamers.
As a user, I seek validation that my playtime is worthwhile.
As a user, I seek satisfaction by being tangibly rewarded for my skills.
DESKTOP APP AND IN-GAME OVERLAY
Our highest priority was to not get in the gamer's way. I designed a docking widget-holder that could be dragged to the left or right side of the screen, where the primary HUD tends not to be. Additionally, the dock would auto-hide, only showing when messages briefly "peeked," or upon mouseover.
We were also one of the first companies able to make instant aggregated messenger contact lists appear in-game (for context, the Trillian app was in its heyday). This was key, as it meant the gamer no longer had to leave the game to respond to instant messages.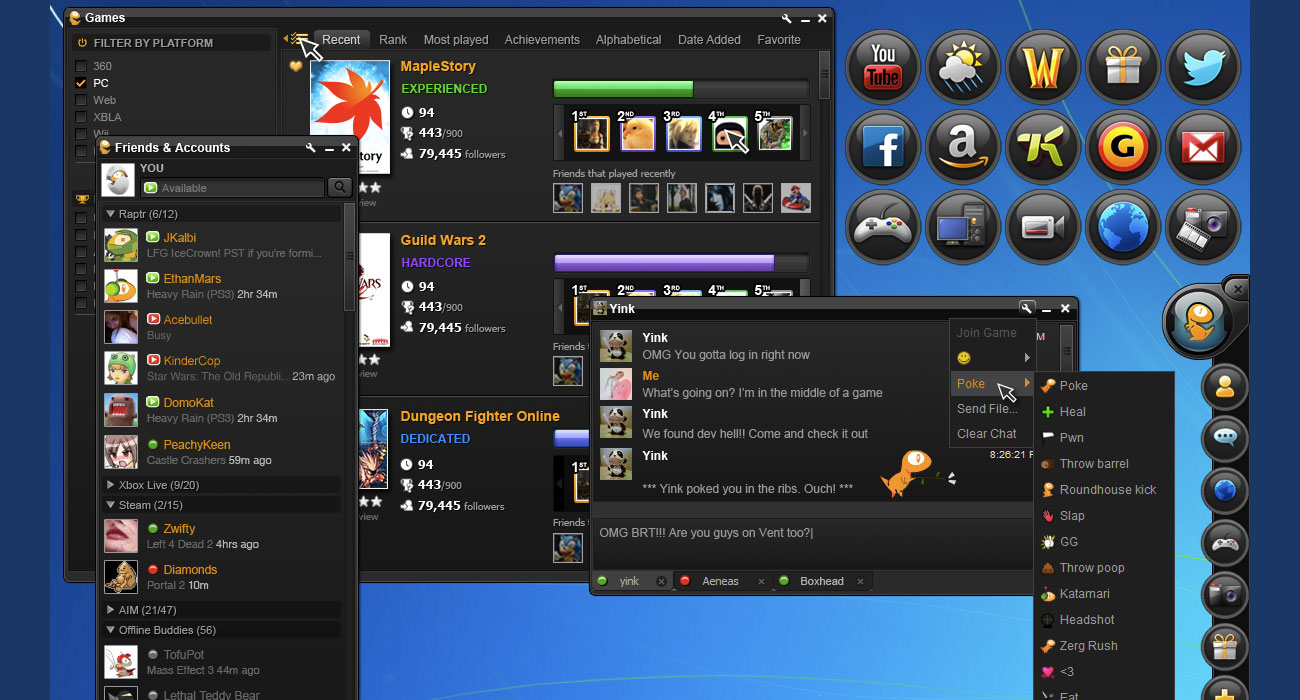 To avoid compromising game performance, we partnered with AMD, and were able to have Raptr automatically adjust its settings for optimum performance on AMD CPUs. The partnership also made Raptr easily accessible for users with newly purchased AMD desktops. Over time, we added a library of robust features, such as streaming and recording, a unified screenshot system that spanned all desktop games, and in-game web browsing (incredibly useful when you're stuck and need to find an FAQ!)
This is a screenshot of the actual UI in action, from a user.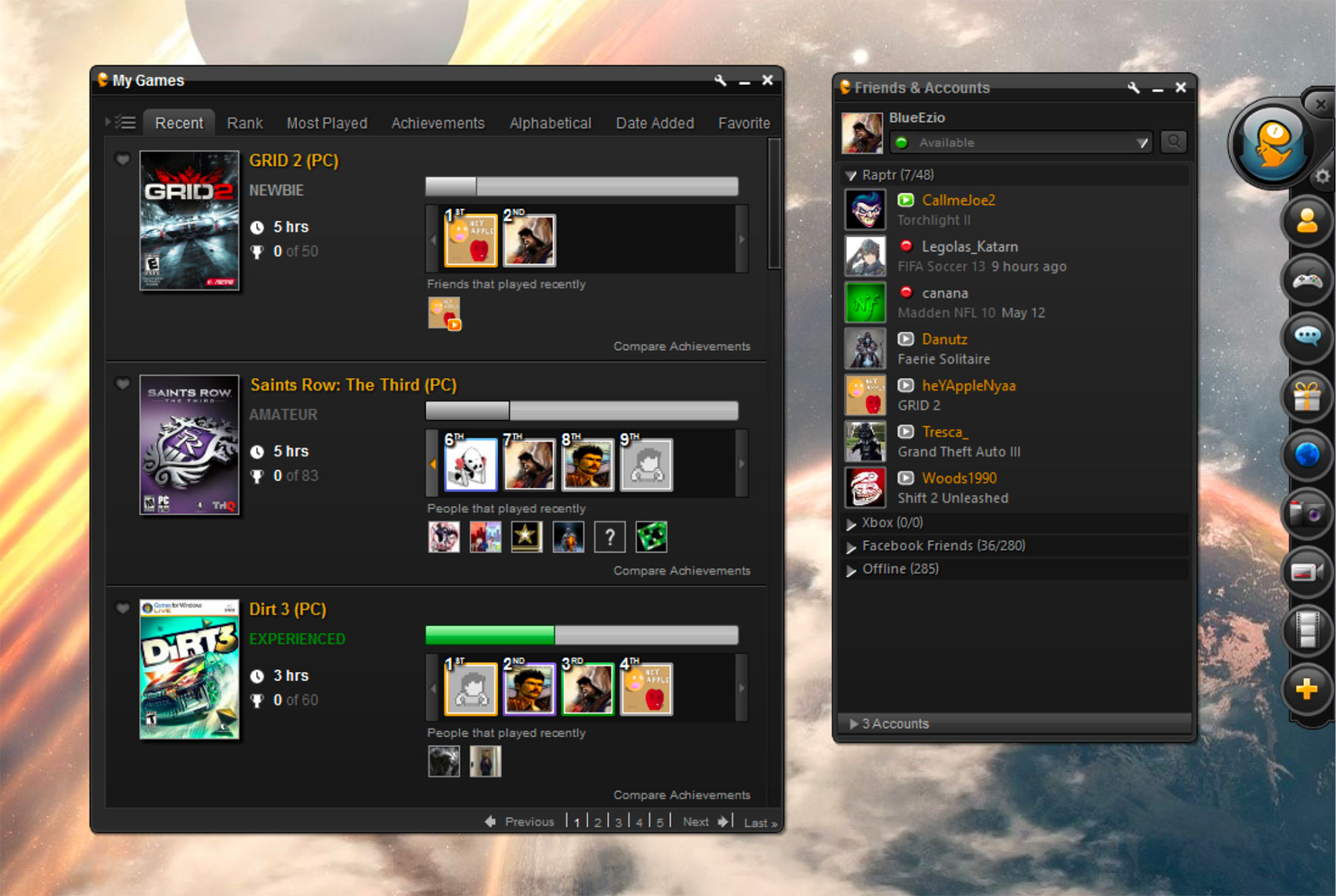 PAIN POINTS
Raptr's primary problem when I joined was lack of re-engagement. Our partnerships and incentives provided easy access and installs for the desktop app, but it was often followed by mass uninstalls or zero activity. As a result, we had a high total user account, but low numbers of daily active users.
GAMER LIFECYCLE
To boost our re-engagement, we developed a human-centric feed that adapted its content based on what Raptr knew about your gaming life. For example, if you bought a game, the feed would know to stop advertising it to you. If you began playing, the feed would prioritize showing which of your friends were also playing the game, or similar games. We could detect if you got stuck on progression, and prioritize surfacing tips, tricks and FAQs; finally, once you finished a game, the feed would know to prioritize recommendations, and cross-promote similar genres or sequels.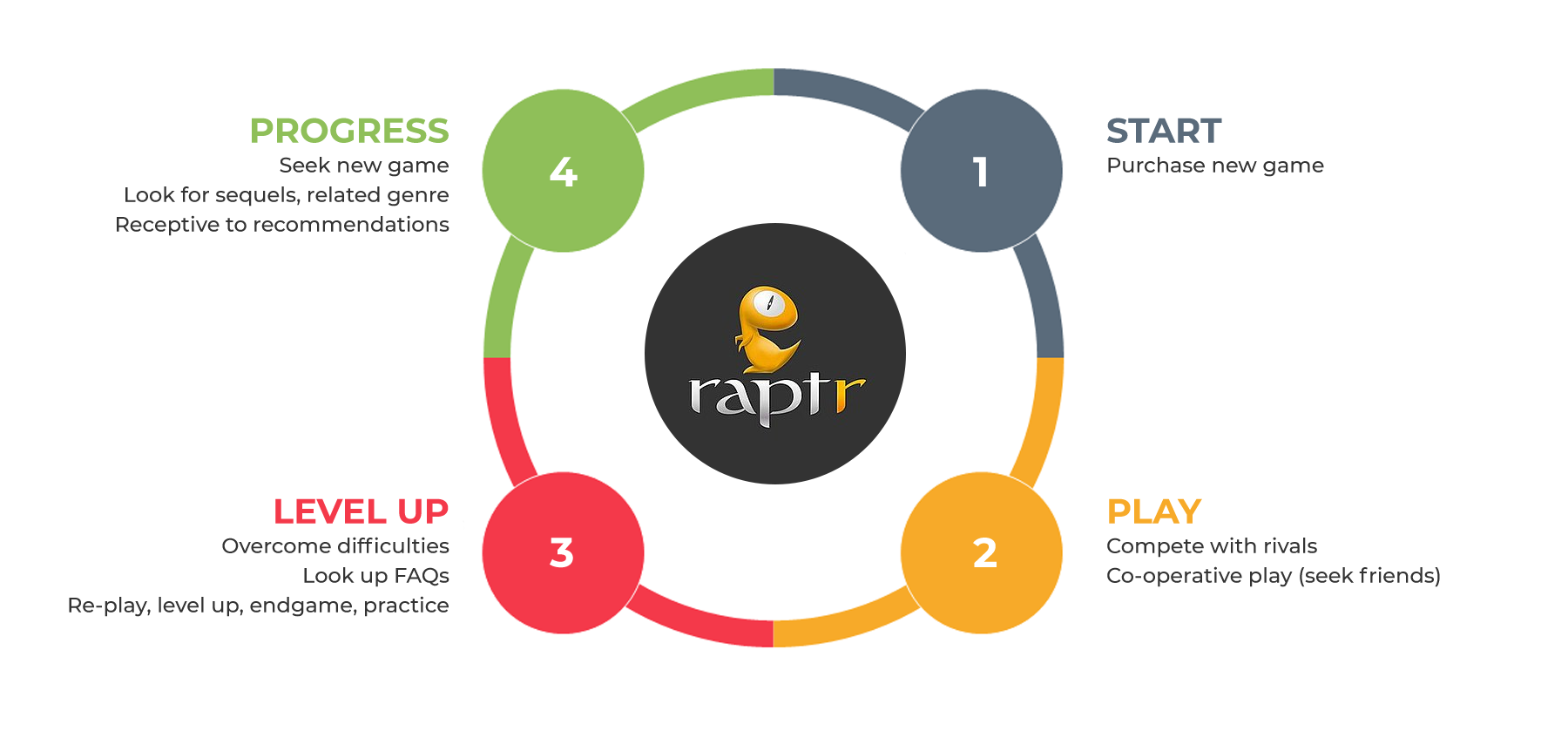 This paired perfectly with our other initiative, to improve sign-up flow completion rates. To accomplish that, we clearly messaged the primary benefit of doing so on the homepage - You could show off your cred, compete with your friends, and earn cool stuff. The engineers and further I built upon that with a visually engaging, real-time dashboard that immediately output your results, in exchange for the one-time action of registering your credentials.
RAPTR REWARDS
Another successful feature we built and launched was Raptr Rewards. To further incentivize gamers to track their achievements over time, we established a currency called "Raptr Points," earned by logging into the social network or tracking hours played in-game. Those points could be traded for awards on Raptr.com.
We partnered with many game companies to provide rewards in the form of in-game item or physical swag. There was no shortage of partnership opportunities - the giveaways, especially virtual items, was a cheap user acquisition cost, and Raptr benefited from people diligently tracking playtime and engaging with Raptr.com to earn points. It was a win-win for both parties.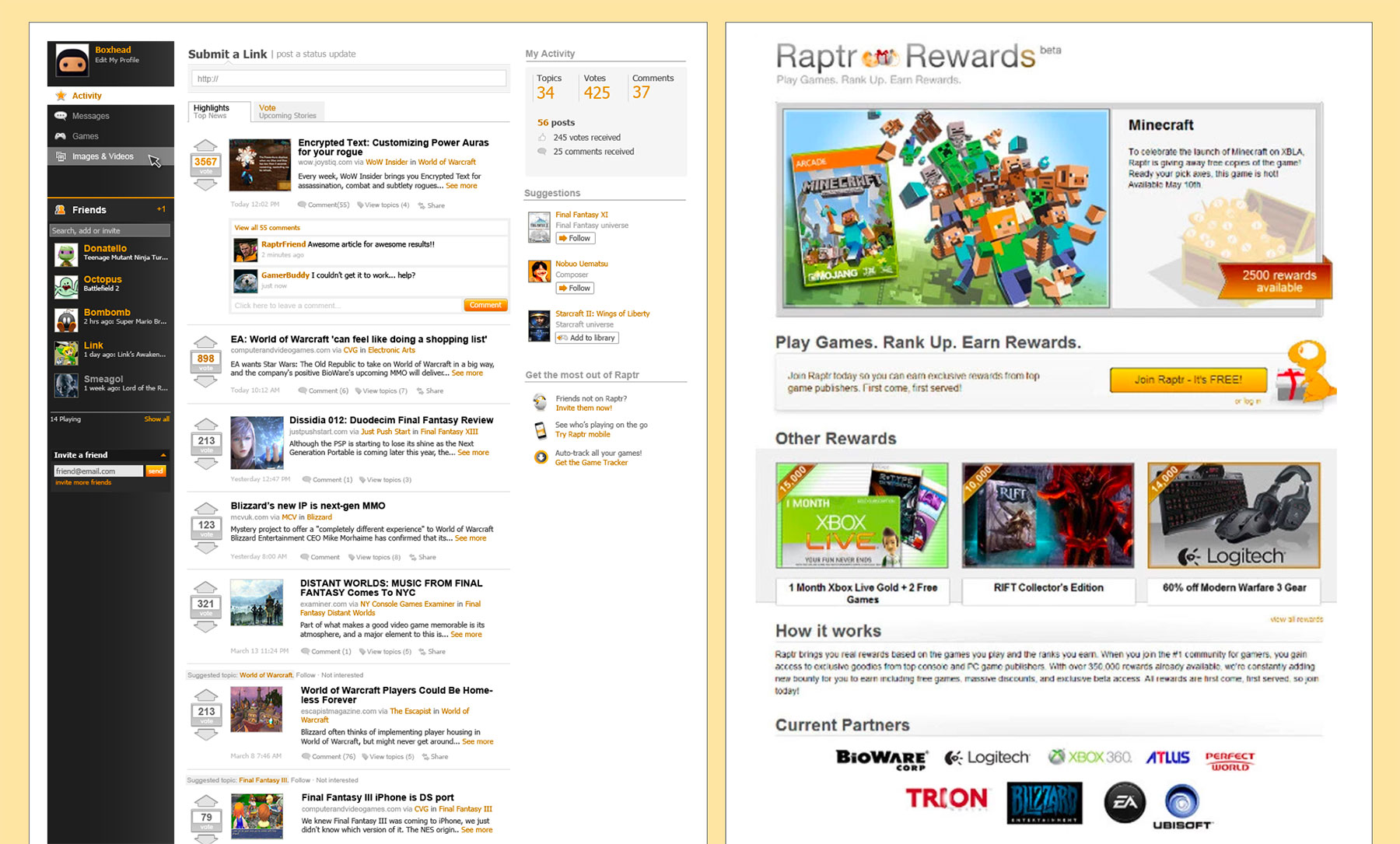 FINAL THOUGHTS
Our Raptr.com customized feed redesign, Raptr Rewards, and our enhanced sign-up flow and partnership with AMD were huge bumps to our re-engagement and our sign-up metrics, respectively.
Beyond that, working at Raptr was a fantastic experience! All the employees were gamers and users of our product. The engineering team was one of the most product-minded, thoughtful and meticulous group I've ever worked with. I believe in elevating design to a cross-disciplinary endeavor, based on the cornerstone that everyone who works together to deliver a product is a valued designer - these people wholeheartedly marched to the same tune.